We headed out to our city office for an afternoon of team building. Our task:
Partner up and learn as much as you can about the other person

Spend the next 20 minutes painting a picture that tells a story about your partner.

Give a speech to explain what you have painted and why.

Allow our paintings and speeches to be judged by a team of staff in HR.
This is the painting that my partner John painted about me.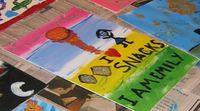 This my painting about John - I won best painting!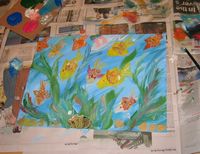 This was understandable - see below


Later that afternoon we caught the ferry to Manly to have a round of drinks at the Manly Wharf Hotel, where we spotted the very handsome 'Tom' from the show The Great Outdoors and more recently Dancing with the Stars. When it was established that no one would have the guts to ask him for a photo we headed across the road to dine at the restaurant
Pink Salt
as featured in channel 7's
My Restaurant Rules
.
Having cameras film you whilst you sit, drink and eat is an interesting experience but not one where you are left feeling uncomfortable. As we get settled in, there is a little lack of atmosphere which is usually created by surrounding music. But as Evan explained, they are not able to play music due to the constant filming by the camera crew.
For the entrée we began with the Pink Salt Sample Platter where you had the opportunity to try a little bit of all the entrées listed plus more. The platter is good if you are brave enough to try new things and have a liking for seafood. The Zucchini flower and corn fritters with tomato & fennel ragout was by far the best entrée dish – be sure to eat it while it's hot!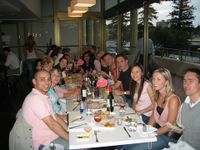 For the main meal I ordered the Wagyu beef rump with roasted eschalots, baby spinach & béarnaise which was fabulous! I would go as far as to say that this would be their best main dish. The salmon was also very nice and I would recommend it over the swordfish. The corn fed chicken is very well presented but tasted rather ordinary and my colleagues felt that the risotto tasted quite bland.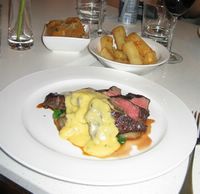 The service is exceptional and is probably due to the fact that their every move is being filmed. Evan and Bella are very friendly and make every effort to mingle with customers. Bella is indeed very beautiful and even more so in person, to our delight they posed for a few happy snaps.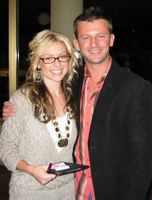 The mocktails were quite nice I had the Mango Suite (i.e. Fresh mango and passionfruit shaken with peach syrup and ice cream) which I found to be rather sweet. After having a sip of everyone else's mocktail we all came to the consensus that the Apply Mojito (i.e. Fresh green apple, mint, lime, palm sugar shaken with apple juice and topped with soda) was by far the best.

The overall price of the dishes is rather expensive for what it is, the side dishes such as chips or mash pumpkin is ordered separately with an extra $7 charged per side, this is on top of the $33 for the mains. Our bill for 14 people was just under $1000 (not including alcohol as it was B.Y.O) thank goodness our company footed part of the bill.

Overall the night was good, so support Pink Salt by dining or voting for them!