I Just wanted to thank everyone for their well wishes and support during this very difficult time. It's very hard to watch some one you love slowly die, you feel helpless and you battle with the pain of hearing them suffer and the guilt of wishing that it will just be all over for them.
I have begun putting up some pictures of my trip so please my
travel blog
if you get the chance.
Lisa bought me a pink Sachi bag for X'mas and I finally bought shoes to match...yay.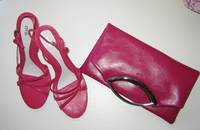 I really like doing things like scrap booking or making stuff, to help me take my mind off things I've started making earrings for my friends. My first attempts have been ordinary but I will hopefully get better with time.