Mondays are always hectic at work and by around 5:30pm I had a need for a real sugar fix. So I put 2 chocolate Turkish delight bars in the freezer to chill quickly so I could eat it on the way home. At 6:00pm I went to get them, they were gone… I see the 2 wrappers in the bin; SOMEONE ATE MY CHOCOLATE!

I wasn't too pleased that afternoon; people at work are generally pretty good about not eating other people's food. The next day in conversation, I mentioned to my manager how strange it was that someone would eat my chocolate. When she found out the story she totally over reacted (as she does with most things) and called the office manager up to report what happened. I begged her to just leave it!

I get along with everyone in the office and the last thing that I wanted to do was make a mountain out of a mole hill and get some one in trouble. She said that eating other people's food was not acceptable! And something should be done!

The next thing you see is a warning email being sent around to the office about staff stealing food and labelling food items to prevent this from happening again. As with all offices, gossip usually follows after such an email and the story went from a few chocolate bars to some one's bottle of champagne?!?

I later found out who the chocolate thieves were…one of them must have been feeling pretty guilty because they secretly left this on my desk.
------------------------------------------
Kyle & Jackie O and the Auzzie Fab Five recently did a show near my work. At 8:00am in the Morning I managed to score myself a free sausage sizzle, a Nudie smoothie and a choc top ice cream. 2dayFM were also doing the whirlwind competition where you got the chance to win 1 million dollars. The first girl won $50,000 and the audience were each given a raffle ticket for their chance to step in the box.
My heart stopped for a second when they called out …Green….D….8! And the guy right next to me Jumped up and yelled 'Me! Me!'….so close but so far…..*sigh* (I had the Green, had the D but number 40)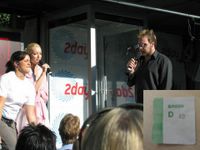 Kyle & Jackie O and the ticket that never was
-----------------------------------------
The picture below has been put here to prove that it is in fact possible for Sarah to get a tan! For those who don't know Sarah, her blinding whiteness has beared the brunt of many jokes. Her newly acquired tan (thanks to a holiday at Club Med) is a first in 23 years!
I was asked to take a photo to document this once off phenomenon!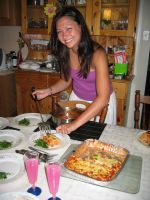 -----------------------------------------------
Going to watch Nessa Morgan play tonight at The Basement. Should be good.